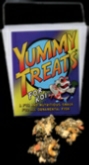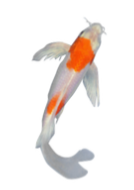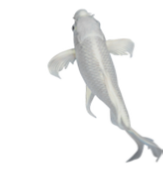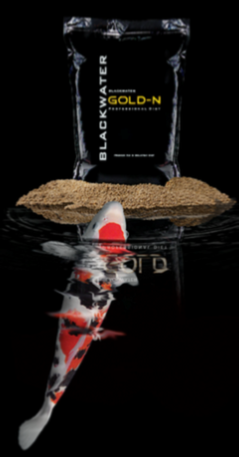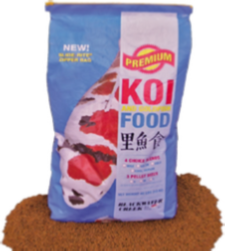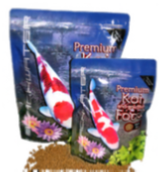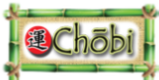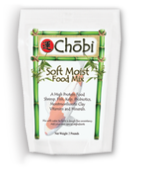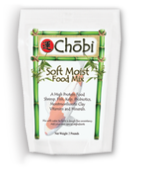 Comparing Koi Foods???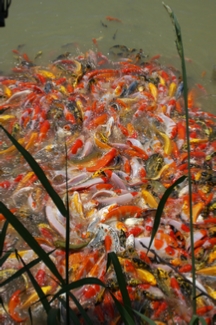 Do you have all the information by just reading the labels?
How do you buy Koi food that is the best Koi food on the market… It's trickier than you may think.
As a Koi owner you want to provide the best nutrition for your pets. Currently comparing labels is really the only choice you have and Koi food labels just don't have enough information. Here is why:
Currently the USDA requires that labels containing nutritional information shall have the following minimums and maximums listed. This is called the Guaranteed Analysis;
These parameters alone won't tell you the whole story of what you buy to feed your fish because; depending on what the protein or mineral source is will determine how much of it is actually bio-available to your fish. An easy example would be eating rocks. If you crush up the rocks and test them, there will be certain minerals shown in high amounts. If you eat these crushed rocks they will come out looking just like they did going in. They would offer very little to none nutritionally "Bio-Available"nutrients. Even though the tests show high amounts of essential nutrients. Many Koi food manufacturers use fillers to help boost the "perception" of nutrition without a lot of it actually being bio-available.
Most consumers have educated themselves about product labeling and are paying more attention to the ingredients list of the product. This is great, and they should, but they should understand that again this will not tell the whole story.
Ingredients lists must conform to a USDA standard that states that the ingredients must be listed in order of inclusion. This means that if the highest percentage of ingredients in the Koi food is wheat, then wheat must be listed first. If the second highest ingredient is fish meal, then fish meal is listed second on the list behind wheat and so on.
So what is wrong with ingredients lists on Koi food? Again it does not show the whole picture. Lets compare Blackwater's Gold-N diet to Brand "X" who may be trying to mimic or be perceived as the same diet. Here are the ingredients that make up the diet;
The Food and Agriculture Organization of the United Nations publishes this information of the protein requirements of carp and what proteins are best.
E-mail: sales@koisale.com
As a comparison our Blackwater Creek Max Growth Diet listed Ingredients are in order:
Fish Meal, Rice Bran, Wheat Flour, Shrimp Meal, Poultry By-Products Meal, Wheat Middlings, Dried Kelp, Ground Wheat, Propionic Acid (a preservative), Ascorbic Acid, Iron Oxide, Vitamin A Supplement, Vitamin D3 Supplement, Vitamin E Supplement, Vitamin B12 Supplement, Riboflavin Supplement, Niacin Supplement, Calcium Pantothenate, Menadione Sodium Bisulfite (source of Vitamin K activity), Folic Acid, Thiamine Mononitrate, Pyridoxine Hydrochloride, Biotin, Calcium Carbonate, Zinc Sulfate, Ferrous Sulfate, Magnesium Oxide, Manganese Sulfate, Copper Sulfate, Ethylenediamine Dihydriodide, Cobalt Sulfate, Sodium Selenite
Protein.........….……………...................38.0 Min % Crude Fat.....................................8.0 Min %
Crude Fiber......................….…..........4.0 Max % Phosphorus.................….………............1.0 Min
% Moisture.....................................10.0 Max %
The main ingredients are;
Fish Meal (Select Menhaden)24%, Wheat Flour, Shrimp Meal and Rice Blackwater Creek Max Growth Koi Food first 4 listed ingredients make up 62% of the total product formulation!
Most Copy Cat Koi Diets' labels look something like this:
Fish meal 10%, Wheat Flour 9.9%, Kelp Meal 5%, Shrimp Meal 4.9%. Ground wheat 4.89% Soy Bean or other lower grade meal 4.88% Corn 4.87%… and so on. 29.8% of the ingredients are the first 4 ingredients in the cheaper diet. That is almost half of the important ingredients quantities missing. FYI be aware that anytime you see "Corn" listed on a Koi Food label it is being used to add bulk and mass to the food, it adds NO NUTRITIONAL VALUE! That's because, in actually "Corn" is indigestible by fish!
Almost NO company will disclose inclusion rates or their secret formula because it would seem to be too easy to copy. But as the consumer you can't easily compare. What you see is JUST THE INGREDIENTS LIST without the percentage of the ingredients so if brand X is 20% cheaper but has only 50% of the good ingredients, the you are actually paying a lot more for a lesser Koi food.
This is what both ingredients labels would look like comparison
Blackwater Max Growth - INGREDIENTS:
Fish-meal, Wheat Flour, Shrimp Meal, Dried Kelp, Rice Bran,
Brand X - INGREDIENTS:
Fish-meal, Wheat Flour, Shrimp Meal, Dried Kelp, Rice Bran,
They Look Identical… They Are NOT
There really is no way to tell , unless they disclose their formula…
and they won't as its their only protection.
| | |
| --- | --- |
| | |
Take a look at the actual Pond Sticks they are manufactured in a High Pressure Steam extrusion machine. The ingredients are mixed and cooked with high pressure, high temp steam and then extruded, under high pressure through a die. When the food hits the air it instantly "Puffs" up like a "Cheetos©"! The result is lots of puffs very little actual product in each "Puff"! Watch the Video to actually see how these Puffs are made>>>>
Wait, you say… "My fish always act hungry… they Love the Pond Sticks © they go into a frenzy when I through them in the pond!" Well think about it… Your Fish are always Hungry because there is very little actual food in those sticks! The are made up of mostly AIR!
Not commonly known (but common in practice) is that many Koi food producers use "lowest cost sourcing" This keeps prices down and profits up but also gives the Koi hobbyist the worst possible diet. They buy whatever is the cheapest and put it in the food. Think of what would happen if the airline industry did this when sourcing the parts ???? " Yep , give me some of those cheap engines and that watered down fuel. This will help keep the profits up" I must say, as VP of Aquatic Nutrition… That just wont fly!!
Now, Which Koi Food is the better Value?
To illustrate the point about the differences, and value, of the Koi Food for sale out in the market place please consider this comparison;
Blackwater Creek Max-Growth Diet and one of the most widely available "Pond Sticks".
Tetra Pond Pond Sticks © are sold in various weights (depicted here is the small bag of 1.72 Lbs) priced at around $12.25/bag. (This is the best price found on the Internet).
So if you do the math that would be about 23 bags to equal the weight of one Blackwater Creek 40 Lbs bag.
The cost of 23 bags of the Pond Sticks = $282
The cost of BWC 40 Lbs bag, (Best Internet price) = $78.99
That's Over a $200.00 difference!
Aquatic Nutrition has been in the Koi food business for many many years and has the ability to test, change and test ingredients on the farms at Blackwater Creek. The pricing is based on ingredient costs more than how many times it can be marked up or discounted. This combination allows Aquatic Nutrition to excel at the manufacture and distribution of some of the best Koi food in the world.
There will be more regulations concerning pet foods that will be rolling out soon. Remember the melamine pet food problem recently? With governmental budget cuts, many agencies have limited resources to per sue new laws or even some enforcement and certain items such as fish food for ornamental fish probably are not high on the list.
There is a voluntary association called AAFCO. This stands for The Association of American Feed Control Officials. They set forth voluntary requirements for labeling and feed ingredients. It is not enforceable law, however the Association provides a way that the membership and industry representation can achieve three main goals:
To Help ensure consumer protection

Safeguard the health of animals and humans

Provide a level playing field of orderly commerce for the animal feed industry.
These goals are achieved by developing and implementing uniform and equitable laws, regulations, standards, definitions and enforcement policies for regulating the manufacture, distribution and sale of animal feeds. Resulting in safe, effective and useful feeds by promoting uniformity amongst member agencies.